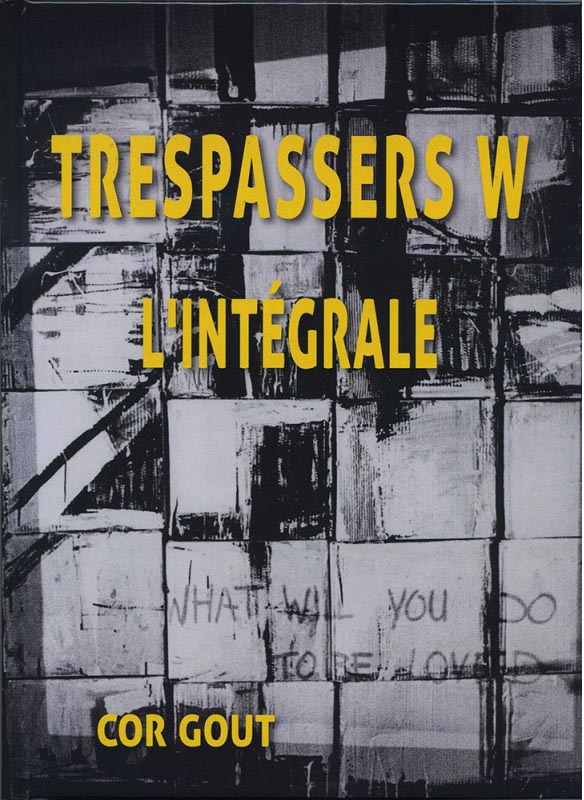 Cor Gout, Trespassers W l'Intégrale II RYTRUT,
ISBN 978-2-9546441-9-6
592 pages
Format: 17 x 24 cm
Hard cover / couverture cartonnée / impression quadri / four-color printing
Lyrics in English / Paroles en français / Songteksten in het Nederlands
Includes all record sleeves and more / Inclut les pochettes de disques et plus (1984-2022)
Prix public / retail price: 26,00 €
Préface / Preface : Maxime Lachaud
Photo's de couverture dos et devant / Back and front cover photo: Ada Fesevur
Traduction des paroles / Lyrics translation: Ladzi Galai & Cor Gout
Introduction and preface translation: Doug Aikman
English lyrics readings: Attila The Stockbroker
Rytrut: rytrut@nullfree.fr
Tevens verkrijgbaar bij:
Stichting Trespassers W trespassersw@nullziggo.nl
Cor Gout, Trespassers W, l'Intégrale II (Rytrut)
Cor Gout is the leader of Trespassers W, a Dutch artistic ensemble that since the eighties has produced a lot of works between avant-garde-rock and urban psychedelia.
They were able to translate an intense musical journey into poetry and philosophy studded with important steps. This book collects all the lyrics written in English and also translated into Dutch and French. It's a huge work, accompanied by many photographs as well as most of their artworks. It's a book that allows a full immersion in the universe of these visionary champions of freedom of expression. With their lyrics full of meaning, they made politics and denounced the contradictions of capitalism which, behind the lure of money, arm the terrorists who strike the West. The issues addressed are many and there is a sentence, on the cover of the book, that says a lot: "what will you do to be loved". It means so much because, in the end, love is always the gratest force that moves the World.
(Giancarlo Bolther, Rockerilla, februari 2023)
Rigo Dittmann, Bad Alchemy, # 117, 29-11/2022
Cor G and Trespassers W: Death by Sophistication
Trespassers W – l'Intégrale (Rytrut 2022) is the 590 pages counting, richly illustrated update of l'Intégrale 1984-2006: 22 years of songs Rytrut, 2007 ~BA55), expanded with One Sided Love Affair (2014), The Stowaway EP (2016), Ferrageau (2020) and Koala and other metamorphoses (2021), but more important, instead of their French translations, this time with complete lyrics in original English, Dutch or German, so that Cor Gout's life's work in his marvelous tension by sophistication becomes an open book. Nostalgia and local patriottisme, Hollywood, Rock'n-roll and what can be marked as excentric melancholy and longing, has become an open book. Because of these mentioned characteristics I have allowed myself to designate him as an 'excentric German poet'. Maxime Lachaud has set out and accentuated Gout's wingspan similarly in his Preface. For me, above all, is the obviousness with which Gout practiced Leslie Fiedler's 'Cross the border – Close the gap' and made it explicit in Leaping the Chasm, a continuous source of joy and a parallel action which appears bloodbrotherlike to me. The abundance of the personal –like 'the boy' – political, pop- and highly cultural allusions sparkle like a mirror ball over the dancefloor of the memory and phantasy.
Just like the Holy Umberto: exciting sparking combinations: La strada – Paradise Lost, Edward Hopper – Elvis Costello, Sartre – Sugar Ray Robinson, Shakespeare – Krazy Kat, De Sade – Monsieur Verdoux, Preraffaelites – Pointillists, No New York – Neverland, Barnett Newman – Shocking Blue, Garcia Lorca – Little Richard, George Hendrik Breitner – Jacques Brel, Jean Cocteau – Captain Nemo, Malraux – Samantha Fox, Don Quichotte – Domela Nieuwenhuis, Potemkin – Ceauçescu, Marlene Dietrich – Ferdinand Vaněk, The Plastic People of the Universe – Eisenstein, Kafka – Rock Hudson, Graf Dracula – Lady Godiva, Doris Day – Mao, Van Gogh – Sex Pistols, T Rex – Cleopatra, Circe – Chuck Berry, Agatha Christie – Mata Hari, Leni Riefenstahl – U2, Dostojewski – Eliza Doolittle, Schopenhauer – Georgi Dimitroff, Munch – Carmen Miranda, ETA Hoffmann – Gene Vincent, Abe Lenstra – Dr. Watson, Les Liaisons Dangereuses – Penthesilea, Goethe – Leda, Lyotard – Artemesia Gen- tileschi, Saint-Exupéry – The Rolling Stones, Houdini – Lewis Carroll, Mahler – Ikarus, Samuel Beckett – Syd Barrett, Sukarno – Slauerhoff, Die Mörder sind unter uns – Teneriffa, 27. März 1977, Paul Gascoigne – Tamara de Lempicka, Velvet Underground – Josephine Baker, Asta Nielsen – Comedian Harmonists, Coco Chanel – Igor Strawinski, Dumbo – Der Leiermann, Mark Gertler – Everly Brothers, Charly Brown – Shake, Rattle and Roll, Betty Boop – Hercule Poirot, Coleman Hawkins – Jacques Prevert, Napoleon – Honor Blackman, Mr. Steed – Tinkerbell, Rudyard Kipling – A. A. Milne… In Gout's verbiage thematically endless, but in laconic nonchalance skimmed of, is in rhyme or rhymeless 'our' total era recessed. From the revolutionary and biedermaier-like inflows via the Cold War to the postkolonial and postmodern hangover. The uncynical enlightenment, the allusive playfulness, the one sided love affairs, space, which gives us the thoughts and feelings, they all made the question 'Aimez-vous Trespassers W' for me always rhetorical. Not Yves Montand, not Anthony Perkins, not even Brahms – Cor Gout is my man.
Cor Gout, Trespassers W l'Intégrale !!RYTRUT, ISBN 978-2-9546441-9-6
Vertaling
There will come a day when Trespassers W will be recognised as a little hidden treasure of Dutch avant-rock in the same way as their fellow countrymen Ex, not so distant in intentions (anarcho-political, diy) but more alt-punk in results, which in Trespassers mainly echo rock in opposition to its many derivatives. In BU#80 of January 2005, Dionisio Capuano drew a portrait of the band in a timely and suitably artistic monograph; today, in this almost monumental volume edited by leader Cor Gout, you will find all texts in Dutch, French and English with photos, covers and assorted memorabilia. It is worth reading not only for those who are already introduced to the band and its music (good!) but also for those who are still ignorant of them (bad), as there are reasons for satisfaction' even without the sound aid Gout is also a writer himself and has an easy hand with words.
A lot of militant poetry (anti-racist, anti-capitalist, pacifist, ecologist, feminist) but also, and perhaps above all, apparently minor and sideways everyday themes such as small domestic dramas, a love trying to be born, a child who will arrive, the misery of cheap jobs, the melancholies of living. Here, this vision as combative as it is disenchanted is the trait that strikes and pleases most in a band that – I have written it before – seems to me, for many reasons both cultural and musical, the Dutch counterpart of our Franti. Start with this book: a world will open up before you.
Stefano I. Bianchi,
Blow Up, # 304, 9 september 2023
Trespassers W – Not doing the Don't

I first heard TW in 1993. I discovered their music as I did much of my music at the time, via Daniiel Plunkett's ND magazine. I was publishing my own zine at the time so I sent a simple postcard to Javastraat 27 A in The Hague hoping for a copy to review.. I was overwhelmed by the package that came back.
Copies of every record I had missed from previous years. Soon I was listening to Roots and Locations, the Buzz K-Sept for fans cassette and Straight Madness on repeat.
I had been running Bright Green Records for just a few years and knew that ND was about to release the Boekelaar, Back 7".  So, I asked Cor to work on a release with me. We released the Heck's 7" shortly after 5, 4, 3, 2, 1,…..0  was released.
It was an amazing thing for a young man from the prairie to be faxing art concepts back and forth to The Netherlands.
Cor continued to release records though the 90's and I started a new label. We decided to work together again in 2002 on Sex and the End of It, the first part of a trilogy. We followed with The Drugs We All Need in 2005 and The Noble Folly of Rock-n Roll in 2006. My children grew up with the music of TW in the house and in the car. It was always a treat to hear them humming one of the melodies that had crept into their heads. Particular favorites were "Do the Don't" and "Make Me Sad". Dancing and stomping to "Do The Don't" and repeating "I'm not doing the don't".


I guess everyone thought that TW was over and it was several years before some re-issues and a new 7" emerged. As is typical TW style, everyone was surprised when we announced Koala and other Metamorphoses in 2021.
With the release of l'Intégrale II fans will get the chance to read all of the lyrics to these amazing songs in English and also translated into Dutch and French.
This book has been curated in amazing detail by Ladzi Galai (who also wrote the introduction to the book). It is published by his Rytrut Editions company based in France.
We are all very lucky to have publishers willing to present works as vast as this.
The book includes many archival photos and artwork for the albums.
I have always had trouble describing TW to people and I think this is what makes them so incredible. An explosion of modern music with the heart of a well informed poet.


Mykel Boyd
(Somnimage)
Bradley, IL
2023