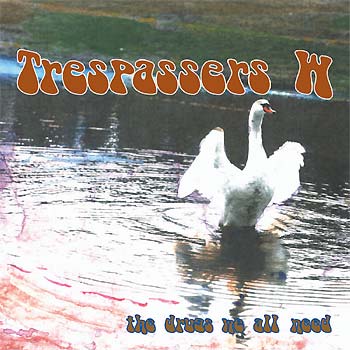 Available through Trespassers W
for € 14,00 + p&p/verzendkosten



The second part of the trilogy 'Sex and drugs and rock'n'roll' was released by Somnimage in 2004. The artwork, representing collages with a swan and a cardboard Jean Simmons, was designed by Ronnie Krepel (ron.en.sas@nullplanet.nl).
German half-yearly rock magazine Testcard (#15, April 2006) wrote about 'Drugs':
The band around Dutch singer and songwriter Cor Gout now offers the second volume of their trilogy Sex, Drugs & Rock'n'roll and contues to work at its very personal and therefore unexchangeable exposition of music-poetry-synergism, in which text and band play around each other, from Brecht/Weil to psychedelics, from rock'n'roll to polka, lately more and more reminding of The Legendary Pink Dots. It won't come as a surprise that From Syd To Lib, in the middle of the big drugs-kaleidoscope, pays tribute to Syd Barrett. Not so much for his druggy past, as for the fact that Barrett was a pioneer in equating music and text in the best possible homogeneous interlacement. Trespassers W find themselves in this respect on the best track too.